Wombi baby sleeping bag

The baby sleeping bag with closed feet and envelope sleeves on the hands. Size XS-XL (dress size approx. 50-110).

To the guidebook

Wombi GO baby sleeping bag

The baby sleeping bag with open feet and hands for the slightly larger. Size XXL (dress size approx 104-122).

To the guidebook
The Wombambino baby sleeping bag
A baby sleeping bag is a great way to keep newborns, as well as older children, warm and safe at night. There are many different types, models and sizes of baby sleeping bags, but in general they have always been designed with the same basic idea in mind. They should create a secure and, above all, safe sleeping environment so that the baby can sleep better and more peacefully at night.
Since every baby has individual needs and not one sleeping bag works for all babies, we present our Wombi to you, which helps to get used to swaddling and serves as a baby sleeping bag for neurodermatitis, as it prevents severe scratching. It is the solution between swaddle and classic baby sleeping bag.
The swaddle bag

The swaddle bag, or simple swaddling, is primarily intended for newborns who have become accustomed to the limited environment in the womb. They often find it difficult to feel the same sense of security and security outside of the baby bump. The technique of swaddling is simple. A cloth or tight sack is wrapped around the baby's body, with the arms held in place as if in a sling. This creates an environment similar to that in the womb and encourages babies to have a calmer and better night's sleep helps.

Our interim solution: The Wombi baby sleeping bag

Our sleeping bag is unique: As a solution between swaddle and baby sleeping bag, our Wombi is the first closed baby sleeping bag that combines the security of being in the womb with full freedom of movement. Similar to swaddling, the slight resistance from your closed hands provides a natural sense of security and security, helping you calm down and help you fall asleep. It is therefore the best support for weaning from swaddling. Because in contrast to the swaddle, it does not restrict the freedom of movement and development and, thanks to the wide and stretchy fabric, still gives the baby the opportunity to kick or crawl.

The classic baby sleeping bag

The classic baby sleeping bag is available in different versions. It is offered as a sleeveless option for the summer and as a long sleeve sleeping bag for the colder nights. However, the hands and often the feet are not covered and do not protect against heat loss and cooling down. Putting it on and taking it off quickly when changing diapers also proves to be very cumbersome, since the sleeping bag usually has to be completely removed and not just the lower part can be opened. For many parents, the conventional baby sleeping bag is therefore out of the question.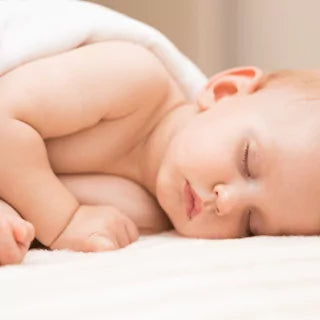 Baby sleeping bag for neurodermatitis
Every sixth to twelfth child in Germany suffers from neurodermatitis or atopic dermatitis. It is particularly important to keep an eye on the little ones' skin and to regularly care for and moisturize it. However, simple measures are often not enough to relieve the severe itching at night.
We at Wombambino can help, because the Wombi baby sleeping bag has closed hands that prevent scratching and chafing. He replaces the unloved cotton gloves, which don't stay on his hands all night due to the constant rubbing and moving. In order to protect your baby's delicate skin even better, we also paid attention to a skin-friendly and breathable material during production that is soft and does not pinch.
This makes our unique sleeping bag particularly suitable as a baby sleeping bag for neurodermatitis or other skin diseases such as cradle cap that cause severe itching.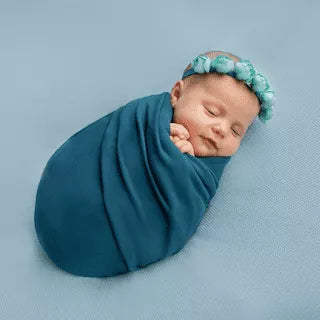 Give up the habit of swaddling
When it comes to newborn sleep, swaddling is one of the most recommended techniques for peaceful sleep. However, when the baby is getting stronger and the swaddling begins to limit range of motion and therefore motor development, or when he starts rolling on his tummy, it is time to break the habit of swaddling. However, as the baby has become accustomed to falling asleep in a cramped and safe environment, this is often very difficult.
This is where our Wombi baby sleeping bag helps, which, due to the slight resistance of the closed hands and feet, gives a feeling of tightness similar to that of the swaddle. As the best alternative to swaddling or as a solution to gently weaning swaddling, the unique cut also helps to counteract the early childhood Moro reflex. The limitation restricts strong twitching and the associated waking up of the babies. So it not only helps your baby to feel safe and secure after being weaned from swaddling, but also to your little one sleeping better overall.
Find the right size:
It's very simple: Measure your child from the shoulder to the sole of the foot. Then compare with the sizes below:
Size XS: up to 50cm - about dress size 50/56
Size S: 51-60cm - about dress size 62/74
Size M: 61-70cm - about dress size 80/86
Size L: 71-80cm - about dress size 92/98
Size XL: from 81cm - about dress size 98/104
However, please note: Your child should grow out of the baby sleeping bag, not into it!
If it is too big, there is a risk that your baby will slip into the sleeping bag and breathing will be restricted. For mothers who wean their baby from swaddling or use the sleeping bag as an alternative to swaddling, we recommend starting with size "XS".
5. Frequently asked questions about baby sleeping bags
Why a baby sleeping bag and not a blanket?

Parents are advised to put babies in a sleeping bag for the first few months of life instead of covering them with a blanket to reduce the risk of cot death. The reason for this is that babies can easily slip under the covers or out of the covers, which can lead to overheating or hypothermia. A sleeping bag is therefore the best choice for your baby as it ensures an even temperature and cannot put your baby at risk.
How long a baby sleeping bag?

Since the baby sleeping bag is the best way to keep your baby safe at night, experts recommend keeping it for as long as possible. However, you should always pay attention to the individual needs of your baby.

Our Wombi is available from a dress size of approx. 50/56 to dress size 98/104, so that even small children can wear it. With the wide and stretchy fabric, it doesn't restrict your little ones' freedom of movement and they can romp around in it carefree.
How often to wash baby sleeping bag?

Since your baby spends a lot of time in the sleeping bag, it is important to keep it clean and hygienic. In principle, it is sufficient to wash it once a week, but it is more common for something to go wrong or for your child to spit up. Then the sleeping bag should be washed as needed. Make sure you don't use fabric softener on the sleeping bags, as this can be irritating to baby's sensitive skin.

For initial equipment after the birth, it can be very helpful to have several baby sleeping bags at home so that you can quickly fall back on another one in an emergency.
What should I look out for when buying a baby sleeping bag?

When buying a sleeping bag, we recommend that you pay attention to the right size, the right model, comfortable materials and high-quality workmanship. As already mentioned in our guide, you should always pay attention to the room temperature and dress your child accordingly under the sleeping bag.